The informational interview is an under-appreciated and under-utilized opportunity to grow your network and build your professional brand. Target existing and new connections to learn about your industry, deepen your relationships, and lay the foundation for your next position.
Informational Interviews Are Not Just For Students
An informational interview is a one-on-one meeting with a colleague to advance your career agenda. You may have first heard the concept when you were trying to land your first job in your industry coming out of school.
If that was the last time you held an informational interview, it may be time to jump back in and recognize the value of this great opportunity.
There are three key ways the informational interview has changed for you since your early career days.
You're an established professional. You don't have the same "hat in hand" sense of inexperience (and perhaps wonder) that you had when you were younger. You have a significant track record. This puts you on a more equal footing with the person you're meeting with.
You're a peer. Even if you are meeting with someone because you're looking to connect to a potential job opportunity, your more equal footing with your colleague puts you in an advantageous position. As a peer, you bring your own established expertise to the table. This is a conversation between two people who likely share many experiences.
You're a resource. This is the most significant difference between you as a "padawan" and you as a "jedi." Your informational interview is a two-way street. Yes, you are coming to them for advice, information, and perhaps a favor. But you are also in a position to share information and advice that they may want to learn or hear – or reciprocate if there's something you can do for them.
Why Conduct an Informational Interview?
If you are in career transition, the informational interview is a well-established business ritual to advance your career goals. It can be a safe space to build your network while researching a target company, learning some career strategies, or deepening a business relationship with a colleague in your field.
It is not necessarily a direct way into a new job, but it gives you an opportunity to get out into your business community. Use the meeting to practice the conversational skills that will help you in your eventual job interviews. It can be a way to enlist support from colleagues who may be in your corner but aren't yet focused on helping you out.
By sitting down with them, they'll get to know you better. If you're reconnecting, they can get a sense of the "new" you. Either way, you're helping them to get a clearer picture of who you are, where you're going, and how helping you could be to their own advantage.
The informational interview helps you to build momentum around the value proposition that you are advancing in your job search. By meeting with a number of other colleagues, you can energize and deepen your own commitment to landing that next position.
And if you are an older professional concerned about age bias in the interview process, conducting informational interviews can be one way to build relationships that can bypass toxic bias and directly connect you to opportunities.
The Goals of an Informational Interview
It is not a job interview, but it may be a way of connecting to someone at a company who can refer you to a recruiter who is trying to fill a position. In this instance, it has a short-term goal.
But you can also use the informational interview to work on longer-term goals. If you are looking to make a move out of one sector and establish yourself in another, meeting with people in that new sector can be helpful. You can learn more about how to potentially create a bridge to a new job. Get information about the skills or credentials required. Reflect on the career history of the colleague you are meeting with and use that information to map your own strategy.
The meeting can be used in a number of ways: to learn about a specific company, target a specific job, research potential companies or available positions, understand career pathways, roles, and responsibilities, or even learn about company cultures.
Informational Interviews Provide Context for an Effective Job Search
Career transitions require more than simply applying to open positions. As you gain more experience and expertise in your career, each transition becomes more important. As you age and progress in your field, you have to figure out how to provide greater and greater value in order to successfully move to the next level.
Informational interviews can help provide the necessary background research from people who are doing the jobs you could be doing, or who can give you an insider's perspective that you won't be able to find anywhere else.
Some of these issues include:
Career field: do you want to stay in your field or move to another one?
Companies: do you know what you need to know about the various companies where you could do the work that you are trained to do – or want to do?
Typical career path: how did your colleague get to the position they're in? What can you expect as you pursue your own path forward?
Job search process: do you know everything you need to know about how talent is sourced and hired in your field or the field you want to work in? Are there any recruiters or recruiting firms who specialize in the field? How can you connect with them?
Targeting Your Interview
There are many people in your existing network who will be appropriate targets for an informational interview. And don't forget that your connections' connections can be an even more important resource for you to tap.
This is why the LinkedIn second-level connections are so important for you to review as you are building traction on your job search or networking process.
In addition to LinkedIn, remember to tap into your college/university alumni association and any professional associations, trade, or networking groups that you've been engaged with.
Indeed, the informational interview can be a great way to maximize the value of your network, and more fully leverage its value.
Remember the following caveats when setting up your interview:
Do your research. Know why you want to meet with this particular person. Don't select someone at random just because they work at a certain company or share some common background (like being from the same home town).
State your purpose upfront. If it's because you want to ask about a specific job, make sure your connection understands that. This is especially important if you are asking a connection to set up a meeting with one of their connections. You don't want to do a "bait-and-switch" once you get into the room or on the call.
Be flexible and accommodating – up to a point. You're asking them for a favor, but you're also a professional. If they have to schedule the meeting at an odd time, bend a little. But if they keep rescheduling over and over, maybe they're not the right person to be meeting with.
Not every informational interview will be successful. It's a numbers game. Not everyone you meet will be on the same wavelength. It may take you a number of meetings to find your rhythm and learn to ask the right questions. But when you do connect, you have added another ally to your career development portfolio.
Tapping Into The Hidden Job Market
One of the best uses of the informational interview is to gain access to what's called the "hidden job market." These are positions that aren't posted and are not actively being recruited for. They are the strategic and unique jobs that defy categorization. They are the jobs that leaders and managers don't even know they need until the right person just walks in the door.
A successful informational interview with the right person can get their mental wheels turning. If you present your value proposition well, ask the right incisive questions, and provide a compelling perspective on their business, you could be invited back to discuss a position that they could create for you.
Set Up Your Campaign
Even if you only intend to connect with a handful of people, your informational interview process should be the same as if you were seeking a new job.
Create the same kind of tracking spreadsheet you would use to log and update the process of reaching out, securing the interviews, and following up.
The big difference here is that your goal is to develop a closer and hopefully more ongoing relationship with each person you interview with. The process doesn't end or taper off because you land a job. Ideally, the process continues and grows and deepens over time.
It is particularly important to stay in touch with your connections if they have referred you and recommended you to one of their own connections. You never want to forget who introduced you to an informational interview colleague. Once you've had the interview, make sure to get back in touch with the referring party to let them know how it went and what the follow up is going to be.
Always Have a Meeting Agenda
If you're meeting with someone new or someone you already know, prepare an outline for what you want to cover. Don't leave the conversation to change, and don't let the conversation veer off into unnecessary minutiae.
Even and especially for a catch-up meeting with an old colleague or friend you haven't seen in a while, it is important to maintain the goals for your conversation. You want to be able to quickly tell them what has changed and what you have learned since you were last in touch. But you want to quickly move to a future-focused conversation that should get your colleague thinking about how to advise you or help you take your next steps.
Prevent the meeting from becoming a time-waster for either of you. If you keep to your agenda, communicate a clear picture of yourself and your purpose, you stand a good chance of inspiring your colleague to help you out. It may not be today, but you'll be banking an ally for the future.
Informational Interview Questions You Should Ask
You want to achieve a balance between what you want to learn about them, and what you want them to learn about you.
Your goal for the conversation is to make a strong positive impression and make your colleague feel positive about who you are, and crystal clear about what you do and the value that you can provide.
Here are five questions that are key to achieving both goals.
What are you working on right now and (to the extent you can get into it) what are the challenges you and your team are facing?
I've done my homework on you and the company, but I'm curious about what led you here, and then how you found your way into the position you have now.
One of the elements that drew me to ask for this meeting is (a product or initiative the company is working on/ an article I read on the company/ something you said in an article or blog post or podcast). My question about that is: ______________.
What would be your top suggestion (or suggestions) for me and/or an important next move that I should take?
These questions will get the conversation going and also give your colleague the opportunity to ask you direct questions.
In the process of doing this conversational dance, you are both trying to find common ground and to see if you are compatible. Do you share the same or similar business philosophy? Do you look at problem-solving the same way? How do you prioritize getting things done? What are your views about collaboration and team management?
In addition to these suggestions, check out the many other available resources on informational interviews to give you a full picture of what to expect, and how to plan.
Hopefully, as the conversation opens up, you'll have the chance to develop some sense of rapport and shared sensibilities.
You actually don't want to ask them for anything until the very end of the meeting. You'll know if the meeting has gone well enough for them to be open to helping you. This might include making a call on your behalf or suggesting a referral or a next action step for you to take.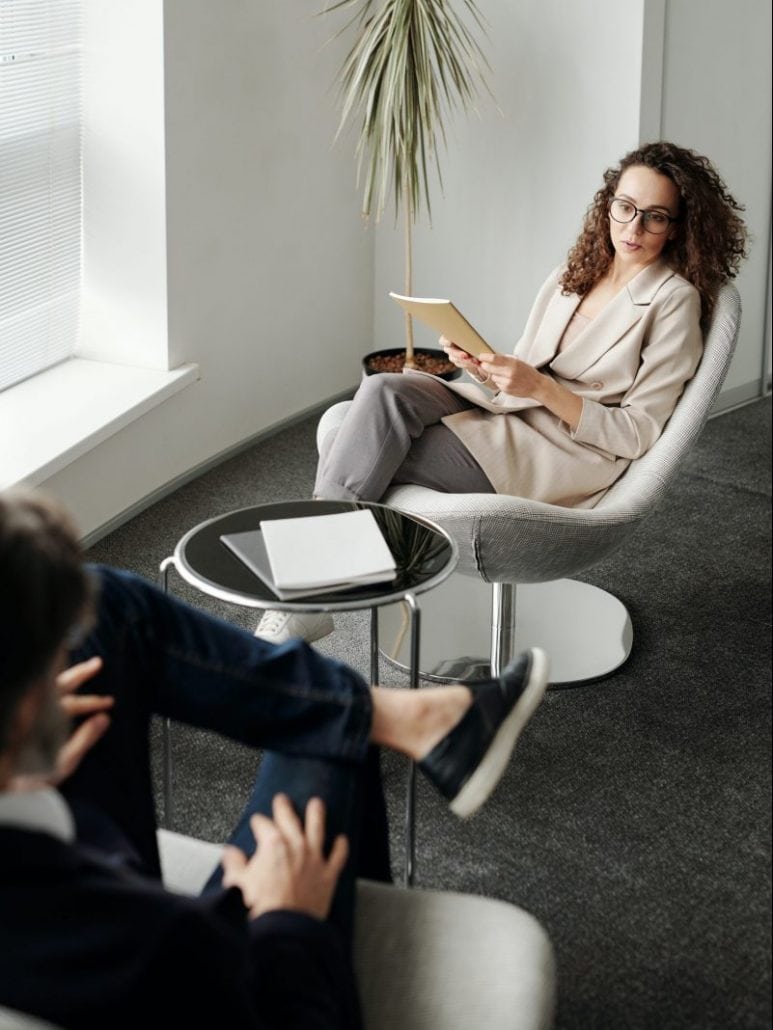 The Question You Should Be Ready For
Even though this is not a job interview, you should be prepared for some of the same kinds of questions from your colleague.
But the key question is most likely to be the first question:
"So, how can I help you?"
Your response needs to accomplish two things:
Communicate the context and the goal of the meeting.
Set the agenda or main talking points you want to address.
Remind them how you came to be sitting there (mutual connection, cold outreach, LinkedIn outreach, etc.), and why they are in a position to answer your questions. Remind them of what your current career goals are (they'll already know this from the message you sent to set up the meeting). Explain the specific areas you're looking to learn more about. Then lean into your first question to kick off the conversation.
Share Your Experience – and Your Purpose
Look for opportunities to talk about your own work. But this is not about promoting yourself or your skills. It is about establishing why you do what you do, and the purpose that you serve in doing your work.
To inspire them to help you, they will need to connect to your higher purpose. If they don't really know you, there is no reason for them to help you. But if they resonate with your "why," they will be much more likely to offer their assistance.
After all, they aren't just helping you, they're helping to support the higher purpose or goals that you both share.
Don't Be Afraid to Disagree
As an experienced professional, you're certainly entitled to your own views and opinions. One of the most important elements of your informational interview will be to stand out and establish your own point of view and parameters.
However, you want to be careful to maintain a cordial and open manner. Disagreeing doesn't have to be argumentative or arrogant. Neutrality is the key.
In presenting your differing point of view or alternative prescription, you want to "offer" your ideas, not contradict theirs. It's not about who's right, it's about what works. If you have a particular approach you want to share, make sure that it is well-thought-out and based on research and/or experience.
Follow-Up: The All-Important Handwritten Note
Just like with a job interview, your follow-up is crucial. In addition to the obligatory thank-you email, I recommend that you snail-mail them a handwritten note card that builds on the email message. Make it brief but personal, perhaps echoing your purpose, or some aspirational goal that was discussed in the meeting. This is another opportunity to make a personal connection. While it may sound like overkill, I guarantee you that it will make an important and positive impact.
And Keep in Touch
Over the past 35 years, I have agreed to take dozens of informational interviews with colleagues as well as students.  But I can count on one hand the number of people who let me know how things turned out for them.
Don't be one of those people.
This may not be as big a deal for a student meeting with a more experienced professional. But as someone who is more of a peer, and who is a member of an established business community, you want to build on your meeting, not throw it away.
Maintaining your communication is more than a matter of courtesy. It is a strategic necessity. Your goal is to work with them more closely. Whether you wind up working with them at their company or network your way to a position because of their referral, you're going to want to keep them in the loop – and make it a priority.
Is It Time to Set Up Your Informational Interview?
You don't have to be looking for a job or thinking about changing jobs to set up an informational interview.
Pick one of your LinkedIn connections who you may not know well – or whom you've never met in person – and set up a meeting. Be strategic: pick someone whose knowledge and background could be complementary to yours. Identify questions about their role or their company that will add to your industry knowledge. But also think about what could interest them about you and your role or background. Look for people who will find you just as interesting and valuable to their careers as they are to yours.