The Boomer Reinvention methodology kicks off with a powerful principle: in order to create the future, you have to reconcile the past.
Reconciliation starts with the process of reframing past memories and experiences from a negative to a positive perception. This is not a willful process of simply blocking out the negative. It is an active engagement and an exploration of different ways you could honestly and authentically look at the past from a different perspective – on that is not so charged with pain, regret, anger or other strong, unpleasant feelings that you believe are stuck in stone. You have many different options when it comes to taking stock of your past experiences. Successfully reframing them is the first indication that you can make significant changes in your life. If you can reframe something, then maybe anything is possible…
Check out Strategy #3. Reframe Limiting Roles (You Are More Than Your Résumé)
In this exercise, reconcile your past by redefining yourself in terms of the roles you have played, both personally and professionally, in your life. This is particularly helpful if you are reentering the workforce after spending time raising a family, or if you have been employed in the same job or role for many years.
Our language and culture conflate who we are with what we do. When you meet someone socially and they ask you what you do, a typical answer might be "I'm VP, Sales for such-and-such corporation," or "I'm a graphic designer," or "I'm a professional (whatever)." Each of these responses defines a person in terms of who he or she is. A more accurate reply would be to focus on what you do, by saying "I work as . . .".
We are each much more than the roles that we take on in our work. Our identities do not have to be completely wrapped up in or defined by our jobs. Even if we love our work and can happily spend every waking moment enjoying it, it doesn't define us. We don't need to pigeonhole ourselves into a specific role. If we need or want to, we should be able to take what we love and enjoy about that role and find another one.
Rather than look at yourself as a job description that maps to a certain level of seniority or a set of tasks, think about yourself in terms of the impact you have, or have had, as a person in that role. Take a step back and think about what you actually do in that role that creates lasting effect and value. The exercise that follows will help you do this.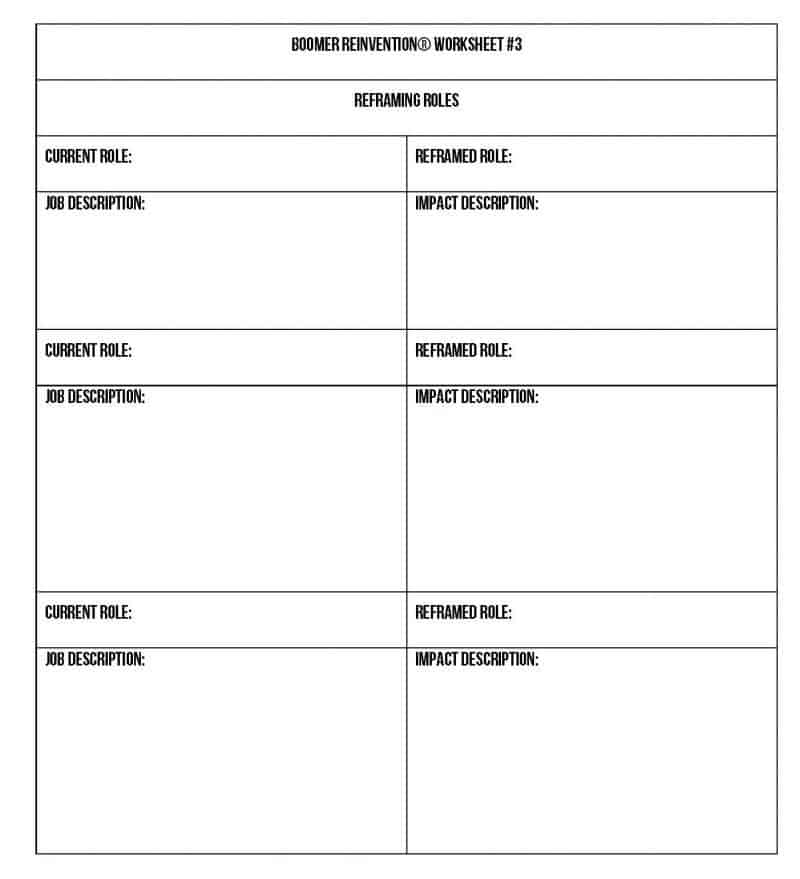 In this exercise, take your current (or most recent) job, and at least two other current roles or previous jobs. Other roles you've been involved in could be charitable and volunteer work, or pro bono work you've done with community organizations, professional associations, clubs, or political activities. For each job or role, compare the Job Description with what I call the Impact Description—what you are actually achieving through your job role.
To fill in the worksheet, write a one-line thumbnail description for each Job Description (it may be your job title), just as you would put it on your résumé.
Now reframe each of these roles by describing them in more active, results-oriented ways in the Impact Description column. If you are not yet functioning the way you would like to function in this role, you may choose to make this reframed description aspirational; to do this, write down this improved version or vision of the impact you would like to achieve in that role.
Seeing all of these roles laid out in front of you may start you thinking more seriously about whether you're happy with what you're doing, or whether you're ready to upgrade your role. Feel free to play around with the possibilities. You may want to draft different versions of these roles to account for different possible scenarios that you envision, including advancing to what you perceive as the next level in your work and involvements.
Understanding how all of your roles fit together can also be of value. It can help to clarify where you want to go in the future and what kind of work-life balance you want to shoot for. Maybe you're taking on too much responsibility in one role and too little responsibility in another. As you age, you are likely going to feel differently about how you want to spend your time than you did in years past.
For many people it is hard to see where or how their skills are portable to new jobs or new companies—or even new industries. As you reframe your roles, look for aspects, skillsets, and responsibilities that could be applicable in fields other the one you've been working in. You may begin to see how you don't need to be defined by or confined to a particular kind of job in a particular kind of company.
Some of the factors influencing your reframe could be:
Additional training and professional development that you would like to get
Travel and international experience that could inform a role you would like to take on
Nonprofit or service work in a different sector (or in more senior managerial capacities) that could apply to your main career role
All of these life experiences count in reevaluating what you now think you can do, or want to do with your reinvention.